Les Stars sur Twitter
Les Adresses Stars Acteur Réalisateur Scénariste Chanteur sur Twitter, le monde en veut toujours plus et les star aussi ..

Avec twitter les peoples, acteurs et actrices écrivent eux aussi leur 140 caractères comme tous le monde
Ci-joint le listing des star sur twitter Réalisateur , Scénariste, Acteur, Sportif  et Chanteur sur Twitter
// Ps: Je la modifie chaque semaine cette liste en fonction de ce que je trouve sur internet. //  je prépare aussi une liste complète des Acteurs/ Réalisateurs/ Chanteur  en France ! //
LISTE EN COURS DE MODIF/AJOUTS
Chanteur


Snoop Doggy Dogg : http://twitter.com/snoopdogg


P. Diddy : http://twitter.com/iamdiddy


Britney Spears : http://twitter.com/britneyspears


MC Hammer : https://twitter.com/MCHammer

Lenny Kravitz : https://twitter.com/LennyKravitz


Björk : http://twitter.com/bjork


Mika : http://twitter.com/mikasounds


Mariah Carey http://twitter.com/MariahCarey


Paula Abdul http://twitter.com/PaulaAbdul
Sportif

Shaquille O'Neill : http://twitter.com/THE_REAL_SHAQ
Acteur

Denise Richards : https://twitter.com/DENISE_RICHARDS
Danny Glover : https://twitter.com/mrdannyglover
Michael Phelps http://twitter.com/Michael_Phelps
Elijah Wood http://twitter.com/elijahwood
Andy Murray http://twitter.com/andy_murray
Matt Damon http://twitter.com/matt_damon
Tweets by CCArquette
KristenJ Stewart http://twitter.com/KristenJStewart
Tweets by TiffnyMichelle
Ewan McGregor http://twitter.com/EwanMcGregor
John Cleese http://twitter.com/JohnCleese
Arnold Schwarzenegger http://twitter.com/schwarzenegger
Lance Armstrong http://twitter.com/lancearmstrong
Judd Apatow http://twitter.com/juddapatow
Darren Bousman http://twitter.com/darrenbousman
David Bruckner http://twitter.com/bruckmachina
People Photo
Virginie Caprice : http://twitter.com/virginiecaprice
LA LISTE  TWITTER
Realisateur  /  Directors:

Judd Apatow – 40 Year Old Virgin, Knocked Up, Funny People
George Lucas http://twitter.com/George_Lucas
Eric Appel – FunnyorDie director: Gobstopper, Bacon'd!
Darren Lynn Bousman – Saw II, Saw III, Saw IV, Repo! The Genetic Opera
David Bruckner – The Signal Wes Craven – Nightmare on Elm Street, Scream
Cherien Dabis – Amreeka
Fred Durst – The Education of Charlie Banks, The Longshots
Dan Eckman – Mystery Team Jon Favreau – Iron Man, Made, Zathura, Elf Paul Feig – Freaks & Geeks, Unaccompanied Minors, I Am David
Ruben Fleischer – Zombieland
Ari Gold – The Adventures of Power
James Gunn – Slither
Jon Hurwitz – Harold & Kumar Go to White Castle
Malcolm Ingram – Small Town Gay Bar
Nicholas Jasenovec – Paper Heart
Rian Johnson – Brick, The Brothers Bloom
Duncan Jones – Moon
Lloyd Kaufman – The Toxic Avenger, Class of Nukem High, Tromeo and Juliet, Poultrygeist
Richard Kelly – Donnie Darko, Southland Tales
Todd Lincoln – Hack/Slash
Robert Luketic – Monster in Law, Legally Blonde, 21


David Lynch – Blue Velvet, Mulholland Dr., Eraserhead, Dune
Joe Lynch – Wrong Turn 2
Jason Matzner – Dreamland
Adam McKay – Anchorman, Talladega Nights, Step Brothers, SNL
Errol Morris – The Fog of War, The Thin Blue Line
Greg Mottola – The Daytrippers, Superbad, Adventureland
Kyle Newman – Fanboys
Jason Reitman – Thank You For Smoking, Juno, Up in the Air
Mark Romanek – One Hour Photo
Adam Shankman – Hairspray, The Wedding Planner, Bringing Down The House, Cheaper By The Dozen 2, Bedtime Stories
David Silverman – The Simpsons Movie


Kevin Smith – Clerks, Chasing Amy, Dogma, Jersey Girl, Zack and Miri Make a Porno
Andrew Stanton – Finding Nemo, WALL-E, John Carter of Mars
Ondi Timoner – DiG!, We Live in Public
Lee Unkrich – Toy Story 3, co-director of Finding Nemo, Monsters, Inc, Toy Story 2
David Wain – Role Models, The Ten, Wet Hot American Summer, The State
Toby Wilkins – Splinter and The Grudge 3


Rob Zombie – House of 1,000 Corpses, Halloween, Halloween II, Devil's Rejects Screenwriters and Actors after the jump.
Scenarist (Screenwriters)
John August – Go, Big Fish, Charlie's Angels, Corpse Bride, The Nines
Roger Avary – Pulp Fiction, Killing Zoe, The Rules of Attraction, Silent Hill, Beowulf
Greg Behrendt – Author of He's Just Not That Into You, Consultant for Sex and the City
Diablo Cody – Juno, The United States of Tara, Jennifer's Body
Paul Cornell – Doctor Who, Robin Hood, Primeval
Mike Dougherty – Superman Returns, X2, Trick 'r Treat (director)
Bret Easton Ellis – Author of American Psycho, Rules of Attraction, The Informers, Less Than Zero
Tina Fey – SNL, 30 Rock, Mean Girls (starred in Baby Mama, Ponyo, 30 Rock)
Josh Friedman – Terminator: The Sarah Connor Chronicles, The Black Dahlia, War of the Worlds, Chain Reaction
Neil Gaiman – Mirror Mask, Beowulf, Coraline
Josh Heald – Hot Tub Time Machine
Jon Hurwitz – Harold & Kumar Go to White Castle, Harold & Kumar Escape from Guantanamo Bay
Jonathan King – Black Sheep
Brian Lynch – Big Helium Dog, Puss in Boots, Nightcrawlers
Bryan Lee O'Malley – Scott Pilgrim (comic book writer)
James Moran – Severance, Primeval
J.R. Orci – Fringe, Journeyman
Brian Posehn – Mr. Show with Bob and David, Mission Hill, Just Shoot Me!, Human Giant, (Actor on The Sarah Silverman Program)
Rhett Reese – Zombieland, Dinosaur, Monster's Inc, Clifford's Big Movie, Venom
Dan Schneider – iCarly, Big Fat Liar, Jimmy Neutron, Drake & Josh
Nicholas Stoller – Undeclared, Fun with Dick and Jane, Blades of Glory, Forgetting Sarah Marshall
Shawn Wayans – Don't Be a Menace, Scary Movie 1-2, White Chicks, Little Man, Dance Flick
Kevin Williamson – Scream trilogy, Dawson's Creek, Cursed, Teaching Mrs. Tingle, The Faculty, I Know What You Did Last Summer
Producteur ( Producers )
Jane Espenson – Buffy, Tru Calling, Jake in Progrress, Battlestar Galactica, Dollhouse, Caprica
Brad Fuller – The Texas Chainsaw Massacre, Friday The 13th, The Amityville Horror, The Hitcher, The Unborn, A Nightmare on Elm Street


Ted Hope – Adventureland, Towelhead, The Savages, American Splendor, Human Nature, Happiness
Gale Hurd – The Terminator, Aliens, Alien Nation, The Abyss, Tremors, T2, Armageddon, Hulk, Punisher: War Zone
Frank Marshall – Indiana Jones, Back to the Future, E.T.
Scott Mosier – Clerks, Mallrats, Chasing Amy, Dogma, Jay and Silent Bob Strike Back, Jersey Girl, Clerks II, Zack and Miri Make a Porno
Acteur / Actrice (Actors/Actresses)

Kristie Alley – Look Who's Talking, Deconstructing Harry, Cheers

Aziz Ansari – Funny People, Human Giant


Steve Agee – The Sarah Silverman Program, Sleeping Dogs Lie


Christina Applegate – Married With Children, Anchorman, Don't Tell Mom the Babysitter's Dead


Elizabeth Banks – Zack and Miri Make a Porno, The 40 Year Old Virgin, W., Role Models


Todd Barry – The Wrestler, The Sarah Silverman Program


Mischa Barton – The O.C., Assassination of a High School President


Kristen Bell – Veronica Mars, Forgetting Sarah Marshall, Fanboys,


Brian Baumgartner – The Office, License To Wed, Four Christmases


Amber Benson – Buffy the Vampire Slayer


Julie Benz – Dexter, Saw V, Rambo, Punisher: War Zone, Jawbreaker


Sandra Bernhard – The King of Comedy, Hudson Hawk, Without You I'm Nothing


Michael Ian Black – Reaper, The State, Run Fatboy Run, Wet Hot American Summer


David Blue – Stargate Universe, Ugly Betty


Russell Brand – Forgetting Sarah Marshall, Get Him to The Greek


LeVar Burton – Star Trek: The Next Generation


Nick Cannon – Bobby, Weapons, Day of the Dead, The Killing Room


John Cleese – A Fish Called Wanda, Monty Python and the Holly Grail, Life of Brian


Clifton Collins Jr – Boondock Saints II, Star Trek, Mindhunters, Tigerland, Crank 2, Sunshine Cleaning, Capote, Traffic, The Stoned Age


Adam Carolla – The Hammer


Keith Coogan – Adventures in Babysitting, Don't Tell Mom the Babysitter's Dead, Toy Soldiers, The Waltons


Dane Cook – My Best Friend's Girl, Dan in Real Life, Mr. Brooks, Employee of the Month


Rob Corddry – The Daily Show, Harold and Kumar 2, Semi-Pro, Blades of Glory


Miranda Cosgrove – iCarly, Drake & Josh, The School of Rock, Yours Mine Ours


Miley Cyrus – Bolt, Hannah Montana, Big Fish

Felicia Day – The Guild, Bring It On Again, Dr. Horrible, Buffy


Kat Dennings – Nick and Norah's Infinate Playlist, The 40 Year Old Virgin Charlie Bartlett


Dominic Dierkes – Mystery Team


Fran Drescher – The Nanny, Jack, UHF, Saturday Night Fever


Eliza Dushku – Bring it On, Buffy, Dollhouse, True Lies, Wrong Turn  


Shannon Elizabeth – American Pie series, Jay and Silent Bob Strike Back


Eriq Ebouaney : Lumumba, Femme Fatale, La Horde, Bianco é Nero, Transporteur 3, Thirst


Jimmy Fallon – Fever Pitch, Taxi, Almost Famous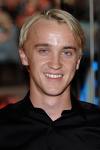 Tom Felton – the Harry Potter movies


Nathan Fillion – Serenity, Firefly, Slither, White Noise 2


Sean Patrick Flanery – The Boondock Saints, Powder, Dead Zone


Jane Fonda – Georgia Rule
Judah Friedlander – 30 Rock, American Splendor, Feast, Chapter 27, The Wrestler
Stephen Fry – V for Vendetta, The Hitchhiker's Guide to the Galaxy
Jim Gaffigan – Away We Go, Three Kings, Super Troopers
Melissa Gilbert – The Diary of Anne Frank, Zoya, Family of Strangers, Little House on the Prairie
Sara Gilbert – Rosanne, High Figelity, Riding in Cars with Boys


Crispin Glover – Back to the Future, Beowulf, Dead Man, 9
Don Glover – Mystery Team
Megan Good – The Unborn, Saw V, Brick, DEBS
Brea Grant – Heroes, Friday Night Lights, H2
Tom Green – Freddie Got Fingered, Road Trip
Greg Grunberg – Heroes, Mission: Impossible III, Alias, Felicity
Jackie Guerra – Selena, Picking up the Pieces


Allison Hannigan – Buffy, American Pie trilogy, Date Movie, How I Met Your Mother
David Hasselhoff – Knight Rider, Baywatch, Click, Dodgeball
Mariel Hemingway – Lipstick, Manhattan, Superman IV
David Hewlett – Stargate SG-1, Stargate: Atlantis, Cube
Kate Hewlett – Stargate: Atlantis, Dark Water
Rob Huebel – Human Giant, I Love You Man
Eddie Izzard – Valkyrie, Across The Universe, Chronicles of Narnia, Ocean's Twelve


Hugh Jackman – X-Men, Wolverine, The Fountain, Australia
Doug Jones – Hellboy, Pan's Labrinth, F4: Rise of the Silver Surfer
Mindy Kaling – The Office, 40-Year-Old Virgin, License to Wed


Jaime King – The Spirit, Sin City, Pearl Harbor, My Bloody Valentine 3D, Fanboys, Blow
Ashton Kutcher – The Butterfly Effect, Dude, Where's My Car?, What Happens in Vegas
Ricki Lake – Serial Mom, Hairspray, Cry-Baby, Working Girl
Miracle Laurie – Dollhouse
James Kyson Lee – Heroes
Samm Levine – Freaks & Geeks, Pulse, Sydney White, Inglourious Basterds
Joseph Gordon-Levitt – Brick, 10 Things I Hate About You, The Lookout, 500 Days of Summer
Courtney Love – Man on the Moon, 200 Cigarettes, The People vs. Larry Flynt
Faizon Love – Elf, Made
Ewan Macintosh – The Office, Little Britain
Allison Mack – Smallville
Chris Masterson – American History X, My Best Friend's Wedding, Scary Movie 2, Malcolm in the Middle
Danny Masterson – Yes Man, That 70's Show
Derek Mears – Friday the 13th
Jason Mewes – Clerks, Mallrats, Chasing Amy, Jay and Silent Bob Strike Back, Clerks II, Zack and Miri Make a Porno
Alyssa Milano – Who's The Boss, Commando, Fear, Pathology
Chris Mintz-Plasse – Superbad, Kick-Ass, The Year One, Role Models
Demi Moore – Ghost, A Few Good Men, G.I. Jane, Striptease
Mandy Moore – A Walk To Remember, Saved!, American Dreamz, Southland Tales
Katie Morgan – Zack and Miri Make a Porno
Frankie Muniz – Malcolm in the Middle, My Dog Skip, Big Fat Liar, Agent Cody Banks


Olivia Munn – Iron Man 2, Big Stan, Date Night, Attack of the Show


Mitchel Musso – Hannah Montana, Secondhand Lions, Monster House
Emily Osment – Hannah Montana, Spy Kids 2-3
Matthew Perry – Friends, The Whole Nine Yards, Fools Rush In, Three to Tango
Busy Philipps – White Chicks, Home Room, Made of Honor
Lou Diamond Phillips – La Bamba, Young Guns, Courage Under Fire, Che, Stargate Universe
D.C. Pierson – Mystery Team
Aubrey Plaza – Funny People, Mystery Team, Scott Pillgrim vs. The World
Kevin Pollak – Ricochet, End of Days, A Few Good Men, The Wedding Planner
Estaban Powell – The Cleaner
Zachary Quinto – Heroes, Star Trek
Mary Lynn Rajskub – 24, Little Miss Sunshine, Sunshine Cleaning
Eric Roberts – The Dark Knight, The Expendables, Another World, Runaway Train, Heroes, The Cable Guy
Emma Roberts – Wild Child, Hotel for Dogs, The Winning Season, Nancy Drew, Unfabulous
Chris Rock – Dogma, The Longest Yard, Bee Movie, Madagascar, Lethal Weapon 4
Michelle Rodriguez – The Fast and the Furious, Lost, Resident Evil, Girlfight, Blue Crush, Bloodryne


Rona Hartner : Gadjo Dilo, Sauve Moi, The Divorce, Court Toujours
Emmy Rossum – Mystic River, Day After Tomorrow, Phantom of the Opera, Poseidon, Dragonball
Paul Scheer – Human Giant
Jason Schwartzman – Rushmore, I Heart Huckabees, Marie Antoinette, Funny People, The Darjeeling Limited, Shopgirl, Spun
William Shatner – Star Trek, Boston Legal, Over the Hedge, Free Enterprise
Michael Sheen – Underworld, Kingdom of Heaven, The Queen, Blood Diamond, Frost/Nixon, The Twilight Saga: New Moon, Tron 2
Laura Silverman – Half Baked, The Sarah Silverman Program
Sarah Silverman – Jesus Is Magic, The School Of Rock, There's Something About Mary, The Sarah Silverman Program
Jessica Simpson – The Dukes of Hazzard, Employee of the Month, Blonde Ambition
Leslie Simpson – Dog Soldiers, The Descent, Doomsday, Straw Man



Kevin Spacey – American Beauty, LA Confidential, The Usual Suspects
David Spade – Tommy Boy, Joe Dirt, Black Sheep, The Emperor's New Groove
Brent Spiner – Star Trek: The Next Generation
Martin Starr – Adventureland, Superbad, Knocked Up, Freaks & Geeks
Michael Stephenson – Troll 2, Best Worst Movie
Ethan Suplee – My Name is Earl, Mallrats, American History X, Chasing Amy, Remember The Titans
Elizabeth Taylor – Who's Afraid of Virginia Woolf?, Cat on a Hot Tin Roof, Giant, The Fintstones, A Place in the Sun
Ashley Tisdale – High School Musical


Milo Ventimiglia – Heroes, Rocky Balboa, Pathology
Nia Vardalos – My Big Fat Greek Wedding, Connie and Carla, My Life in Ruins
Jenny Wade – Reaper, Feast 1-3, Rumor Has It…, No Reservations, Brothers


Emma Watson – Harry Potter series
Robin Williams – Good Will Hunting, Dead Poets Society, Aladdin
Rumer Willis – Sorority Row, The House Bunny
Donnie Wahlberg – The Sixth Sense, Band of Brothers, Saw II – V, Righteous Kill
Wil Wheaton – Star Trek: The Next Generation
Kym Whitley – I Love You Man, Along Came Polly, Fun With Dick and Jane, Black Dynamite


Rainn Wilson – Juno, The Rocker, The Office
Charlyne Yi – Knocked Up, Paper Heart
Voici d'autres articles qui vont vous intéressé